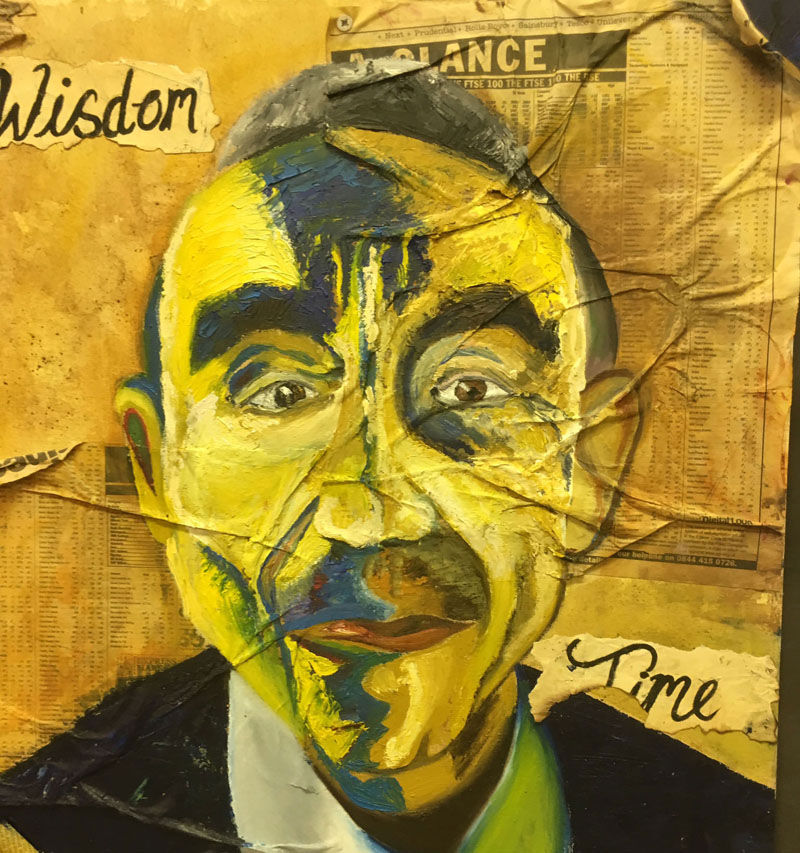 Genesis of the Author: born out of his mind.
Jon Elkon was born and brought up in Apartheid South Africa. His parents were committed in a safe, bourgeois way, to the struggle against Apartheid. His father Sam was a member of the Industrial Council, as well as being a self-made mattress millionaire. In these roles, he worked for the recognition of black trade unions. Mother Valerie, as a member of the Black Sash women's movement, protested against the injustices of the system by standing mutely in public places wearing (surprise!) a black sash, symbolising the death of democracy. Growing up in this atmosphere wasn't easy. The family lived in the constant fear (paranoia) of being watched, of the telephone being tapped, of persecution of all the varieties one can expect in a police state. Probably their fear was quite unjustified – neither Pa Elkon nor Ma Elkon ever posed a major threat to the system. Bridge and golf were much more important to them than political injustice anyway.
Which, of course, stung the idealistic young Jon (then suffering under the burden of being called 'Jonathan') who didn't make his views secret – and was subjected to remorseless bullying at High School partly as a result. He was the victim of a swarm of rugger buggers at this boys' school, who saw him as an effeminate 'Kaffir lover" and made his life more than hell. At 16, he left King Edward VII School for a cram college, Damelin, in the centre of Johannesburg. Here he found his self-confidence, and met regularly with a group of like-minded adolescents with the joint project of undermining Apartheid, ingesting as many drugs as possible and returning the country to sanity…
Born out of time
Jon has "always" written. His first novel was scrawled into an exercise book at the age of eight. It was the story of a town under siege some time way back. In an eight year old's mind, way back is usually yesterday, but not in this case. So this town…he called it Beissbrichgarten, which lurked beneath a cliff which 'nestled the town within its arms like…' etc. .(Google says there's no such place. Go, Jon!) Under siege maybe by Napoleon…ends spectacularly blown up and buried by an avalanche as a result of the Mayor's failed attempt to destroy the invaders. Shame. Plot for sale! Anyone?
Then there was 'Inside Out', in which a post-apocalyptic human, plugged in to an electronic armchair, resolves to leave the chair and seek the light. Plot for sale! Ooops. Stolen.
And hundreds and thousands of poems, short stories, plays.
All of which were thrown out by Mama Elkon when the family moved house in the seventies.
With the rest of the rubbish which is probably a good thing.
Born to run away
At the age of 20 he escaped. Arriving in the UK penniless and homeless, he spent time on the streets, sleeping in shop doorways and parks. He was eventually rescued by luck and the kindness of friends. During this time he participated enthusiastically in the birth of an excellent son James, who now lives in Cape Town.
These adventures and many others are the basis for his three novels, Umfaan''s Heroes, Laszlo's Millions and Celine, the first two of which were published almost twenty years after the events they lie about. He describes the third, 'Celine', as 'Rubbish'. Should have asked Mama Elkon to dispose…One day he may have the courage to re-read the ms and, who knows.
It took many years before he felt confident enough to submit a novel for publication. His first novel, Umfaan's Heroes, was published by Andre Deutsch and received very well by the critics. The sequel, Laszlo's Millions, was received in the echoing silence which accompanied all other literary efforts on the eve of the Iraq War. Umfaan's Heroes has now been re-issued by the Author in a new paperback edition which will be sold worldwide and will hopefully gain a new readership. And the exciting news is that the sequel has been fully remastered and rewritten – Elkon asserts it will "Redefine the comic novel" and will "rewrite London" – and is now available as an e-book and a paperback.
Born to Fight
If you have read the books you'll know why Jon needed to fight. In 1976, he discovered Karate with the world famous Sensei Enoeda at Marshall Street. Ten years learning to block, punch, kick. Tut. Also, tut. Then ten more years with Sensei Asano. More tut. Then ten years and more under Sensei Kanazawa. Finally, Jon is at peace, secured by his 3rd Dan Black Belt. He still trains and runs his own club in Southall, teaching others not to hurt people. People are soft, Jon says. That's why we have to look after them.
Born to Teach
Jon Elkon teaches in an inner city school in London and has received loads of awards including the Teaching Award for Enterprise. People love giving awards, Jon says. It makes them look as if they know what's going on.
Borne aloft
Jon also writes occasionally prizewinning poetry and more novels (the latest novel is the Cure for Cancer, which is now available on Kindle. Beta version. Soon to be a paperback. It was previously titled the Fifth Estate but that title was so good it was stolen by a movie. He lives in the hope that none of his ex-students will follow in his footsteps, that Apartheid will eventually be defeated in mens' minds, and that the world will remain habitable by humans at least until Thursday. Just in case.