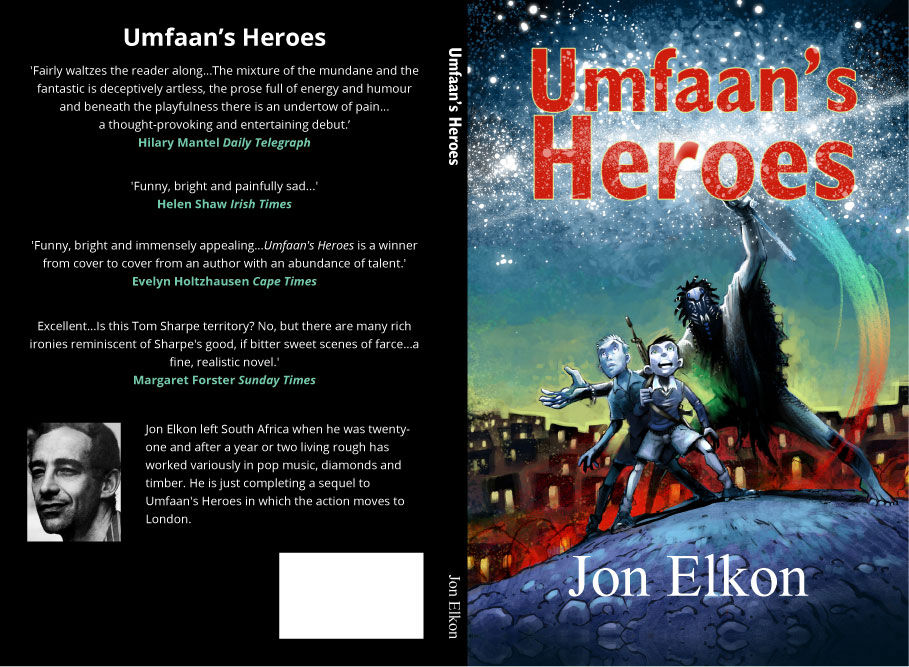 The Story
A richly funny and painful story Umfaan's Heroes is a fantasy and a political novel in spite of itself, with a seasoning of Science Fiction with a unique insight into living under the insane madness of the Apartheid regime in South Africa.
Aware of his incarnations in past lives, Tom Bloch, 18-year-old army conscript – South African, white, Jewish – in a prison cell, is condemned to death for terrorism. The novel relates Tom's journey to his cell, how he was befriended by a witch-doctor claiming to be a harvester (of bodies!) from another planet, via his fist fight with his father, his friendship with an Afrikaner boy, experiments with drugs to this gloomy place with the hangman's noose dangling outside.
Just as well that Tom has always regarded life as an interlude between deaths for he soon becomes dangerously involved with the Mandela-like figure of Absolom. And madness, death and insane comedy is the only winner….

"Fairly waltzes the reader along…The mixture of the mundane and the fantastic is deceptively artless, the prose full of energy and humour and beneath the playfulness there is an undertow of pain…
a thought-provoking and entertaining debut."
Hilary Mantel Daily Telegraph

"Funny, bright and painfully sad…"
Helen Shaw Irish Times

"Funny, bright and immensely appealing…Umfaan's Heroes is a winner from cover to cover from an author with an abundance of talent."

Evelyn Holtzhausen Cape Times

"Excellent…Is this Tom Sharpe territory? No, but there are many rich ironies reminiscent of Sharpe's good, if bitter sweet scenes of farce…a fine, realistic novel."

Margaret Forster Sunday Times