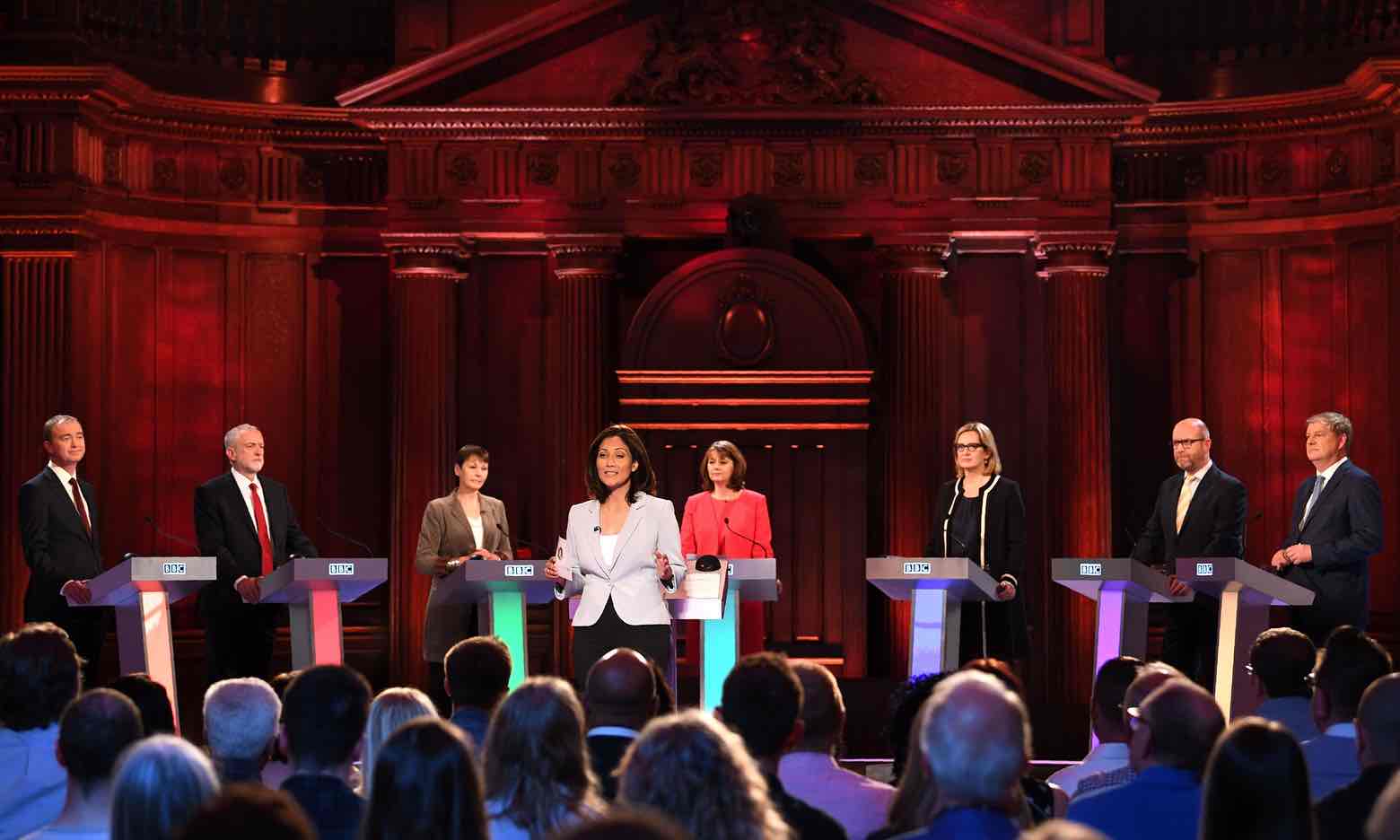 Election Diary 2: The Whore of the Hustings
no responses
In this most sudden and crucial election it behoves a bloke or a bird to pick sides. The agonising on Social Media rises up to the heavens causing cherubs to fall off their clouds and the very gods themselves to clap their hands over their ears to cut out the cries of anguished confusion as they plunge to earth in an attempt to escape all the cries for help. And here I go ducking falling angels, picking my way through dead deafened gods, on my way to man a phone bank for the Green Party.
Yesterday I stood on Parliament Green with Caroline Lucas and a few selected Green has-beans (sic) like myself, retired ladies and gentlemen with time to spare to support the suffocating planet, and watched this formidable implacable gentlewoman smile as she made her urgent plea to the main political parties to put the environment on their agendas. Fat chance.
And tomorrow I will cross my road to the local Labour Party headquarters to man their phone bank. From green hat to red hat. What a slut I am. Perhaps, a cynic (David Porter of 34 Acacia Avenue Bromley Kent BR34AC, Conservative) would say, " you pensioners, so bored you'd do anything for a chat and a cup of tea!" To which my answer would be, I don't drink tea! I drink bloooood. Preferably from the neck of bad peeps who have no integrity, who drain the poor of blood to feed the rich, who privatise for the profit of their friends, whose agenda of social engineering includes starving state schools of funding so that posh grammar schools can be set up for fat kittens at little cost to their fatcat parents, whose primary purpose in life is to push up the dividends from the companies of their buddies, who will cut everything in sight along with taxes for themselves.. excuse me. Have to take a breath.
And who tell lie after reassuring lie to the electorate in order to stay in power.
Phew.
So now do you know why I am a slut? I will sleep with whoever has a decent chance of defeating a Tory. Except of course a UKIP because they all have tiny penises. Or breasts. Or both.
Yawn.
Tonight, the Leaders' Debate on BBC. I saw a bit of it at the Green Party HQ in between futile calls to beg members to go to Bristol to support the chances of Molly Scott Cato. As I was calling during the Leaders' Debate no-one wanted to talk to me. Which was, of course mutual as I wanted to watch too. Whose damn idea was this. Anyway from what I gathered Amber Rudd the Home Sec did a reasonable impersonation of a Primary School headteacher impersonating Theresa May for a school play.
Wonderful! The picture of everybody ganging up on Absent Fiends was heartening. The perfect opportunity to rip the Nasties to shreds. I just hope they did..
At home now, watching on iplayer. Gosh Paul Nutcase is repulsive! A writhing cesspit of hatred and victim mentality. The ScotsNat reminds me of a blond Gordon Brown, without the brownness. Where is the divine Nicola Fish? Who poohs out caviar? Jeremeeeee looks tired and so much more stern than before. Like your benevolent uncle whose Werther's Originals you have stolen. The Welsh Lady is delightfully obscure, eminently sensible, and so easy to ignore.
As usual Caroline is perfect. Wonderful. Sensible. Sane. Usually right. Which is why no-one listens. So YOU listen, it's so obvious: cut Trident, cut HS2, cut Hinkley Point nuclear Power station and you save about £300 billion. That's the NHS sorted, and practically everything else. We don't need these absurd vanity projects, designed as they are to enrich fat cats and Chinese. But what the hell – sanity and sense has never been much of a plot. Far too boring.
Watch this space….