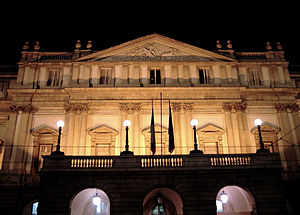 Intermezzo
no responses
Extract from a novel in progress by JON ELKON
Alfredo Capodimonte came from a family considered amongst the aristocrats of the opera in Italy. As producers directors and managers at the Scala in Milan, at Rome and Verona they had been amongst the most famous of their day for at least three generations. Capidimontes it was who first saw the genius of Raimondi and Gigli, who launched the careers of Mascagni and going further back, Bonaventura.
So now we must take you back thirty years, to the turn of the twentieth century. Carlo Capodimonte was one of the most successful opera directors ever, and was in constant demand to direct operas at the greatest opera house of them all, La Scala in Milan. Known to all as Da Capo, his successes were legendary; his production of Aida and Ballo in Maschera won screams of approbation from audiences and critics alike. He was feted by all, and could do no wrong.
But then, disaster.
Signor Giacomo Calvi was a banker in Milan whose love of the Opera was expressed in his frequent visits to La Scala and his extraordinarily generous gifts to that institution. As a major donor he was given access to all sides including backstage where one day he met Capodimonte and confessed his dark secret: Garibaldi. His Magnum Opus. A Grand Opera in four acts. The obsession of almost twenty years, which he had kept a great secret from everybody, even his piggy wife. (His original decision to concentrate on composing an opera, by the way, was a response to her constant miserable persistent nagging. Usually for sex, an activity he detested. He was safe behind the locked door of his study.) Until today! Because at last he had finished it. Which was why, filled with the thrill of creation, he sought out the greatest director of the day.
"Yes of course Signor!" Said the Capo. "I will look at the score and give you an opinion. But I warn you: if it is rubbish I will say so!"
Of course it was rubbish. It was ordure. It was melodramatic romantic shit of the worst sort. The plot was horrible: Garibaldi takes time off from uniting Italy to fall in love with a maid in the house of the King of Naples but she is secretly his daughter and is in love with a handsome knight who is in love with…and so on. The same tosh you get in so many Baroque operas.  At least so many of those are made divine by wonderful music! In Calvi's case, sadly not. To make things worse, he was determined to "revolutionise" the orchestra by the replacement of the entire string section with saxophones, the only instrument he could play. When the Capo read the score, he cringed in terror at every note.
Most unfortunately, before he was to meet Calvi to tell him what he thought, he met Dragi, the Chairman of the Board at La Scala. Brimming with deviltry and delight, he began to tell this august gentleman about this Monster. "You would not believe how bad it is!" He said. "Everything! From libretto to score to orchestration…"
"It isn't."
"Pardon?"
"Signor, listen to me. This opera is not terrible."
"You have seen the score?"
"No."
"Then how can you – ? "
"Signor Calvi keeps this Opera House from total collapse."
"Collapse????" Capodimonte's gaping mouth could have admitted an entire gilded sky chariot with Apollo in charge.
His brain churned as his mind boiled. In his mind's eye he saw the grand lifestyle of Signor Dragi – the carriages, the mistresses, the houses in Paris, Vienna and Prague. Not just Dragi – the entire Directorial Board seemed to see it as a duty, and a reflection of the success of the opera house to live lifestyles of extreme luxury and even debauchery. They also paid him very generously as if he was expected to do the same. So out of respect for his employers he wasn't slow to take on a vast array of mistresses, and indulge in some gambling too. In his mind's eye he saw the frequently full houses, the lines of people desperate to see the hugely elaborate productions La Scala was famous for. And in his mind's eye he saw liras, liras flowing out of the cornucopia that was the generosity of men like Calvi.
Largely into the pockets of men like Dragi.
For the first time in his life he met the Real World, and quite frankly he didn't like it.
"……Signor Dragi, what must I do?" He asked, desperately.
"Listen to me. You will tell Signor Calvi his score is brilliant, but of course will need some changes and fixing. You will offer to find a wonderful composer to do this. It will take a long time."
"Yes."
"A very long time. Years perhaps."
"I see."
"And then you will tell him how hard it will be to get wonderful performers of genius who are good enough to take on this work of genius,
"Yes."
"And then, to mount such a production, to design such a production, to rehearse this – genius – work… do you get my point?"
"Will take years."
"Exactly."
"Years. I will tell him."
"And then we will see which comes first: the production or his sad demise."
"Brilliant Signor!"
"And if that doesn't work we will have him killed. No doubt La Scala features prominently in his will." He laughed.
Capodimonte laughed nervously.
"And you don't worry dear Carlo. Whatever happens, I will take the blame. Ok?"
And so, filled with righteous apprehension, Capodimonte went off to see Calvi.
"Well?" said Calvi. "I hope you can see the genius in my work?"
"Without a doubt Signore. The concept is very – high. The plot is very – original. The music is certainly different…."
"Different?"
'The saxophones. Very – interesting."
"Interesting?"
"Indeed Signore. I believe –
"It will cause a stir."
"Oh, it will that!" Capodimonte said, "It will that!"
"Good. I propose you get me a cast, arrange a date with the Opera, begin rehearsals! I am very excited!"
"Certainly Signore, we will do that. There are a few changes and edits I will need to make to the score – "
"What! You will not touch one note!"
Capodimonte shrugged. "It is usual for a director to make some changes, adapt to the production – "
"You will make not ONE single change. I have worked for twenty years on this score. Every line, every nuance, every note has taken my sweat and tears. This opera will be produced and directed and seen precisely as it appears in my head, in my dreams."
" – Signore – "
"I have even decided the cast!"
"The cast…"
"And soon. Very soon. You will tell Dragi. I want the first production six months from now."
"SIX MONTHS!"
"I don't care what is in the schedule. The public do not need another bloody Puccini nonsense. Or stupid Verdi camels. They want history, patriotism, exciting modern music. And they want it now. Understand?"
And so the legendary production of the Grand Opera Garibaldi by Giacomo Calvi came together like a modern motorway pileup. The lead roles were sung by hideously overweight aging stars, some of them retired, because Calvi had idolized them in his youth – and had "always" visualized these has-been stars in his Magnum Opus. The sets were hastily and horribly assembled. Rehearsals were continually disrupted by Signor Calvi who invariably sat in the stalls with his saxophone, always ready to adapt, correct and guide the singing or the playing by what Capodimonte came to call contemptuously The Orgastra.
Incidentally, three mysterious attempts to assassinate Calvi took place during those six months – each one frustrated by the wall of armed men allocated to him by his bank. These men accompanied him everywhere he went. In rehearsals they would applaud every aria, almost every note of what they apparently delightedly called Garry Boldy.
By the time the Opening Night finally happened, the Opera House was packed to the rooftiles. The press had built up a fervor – "The Great Capodimonte's Thrilling New Discovery!" "Banker banks on Capodimonte!" "La Scala Banks on Banker and Da Capo!"
The curtain opened, and from then on the stage of La Scala became one of the most famous Natural Disasters in history. It eclipsed the eruption of Vesuvius. It made Noah's Flood look like a mere dribble of sputum from the lips of a child. And as you would certainly have predicted, Capodimonte's career was destroyed for life.
So what about the vaunted support the Chairman of the Board had so generously promised him? Alas, that venerable gentleman died of syphilis, alcohol and opium two months after the discussion with Capodimonte. And as for Calvi, well he went home, shot his piggy wife (he had wanted to do that for twenty years) and then himself.
Carlo Capodimonte himself went off to found a company producing porcelain and pretty figures and eventually made some money out of it. He never set foot in an opera house again.
Back to 1929.
It was Carlo's son Luigi who now sat in the first row of the stalls at the Berne Opera House, listening to the ghost of the applause that had followed all his father's productions before the Calvi catasrophe. And watching as a magic boy made magic sounds like bells, ringing an encore for the Capodimontes.
Because everybody has a backstory, I frequently pepper my narrative with how my characters got to be there, in the story, and also – more importantly, why.
And so, my story is actually about this Magic Boy, Guido, and his rise as an opera star and perhaps, a serial killer. Luigi Capodimonte becomes his manager and his Svengali…
A tale of joy, killing, and castration…coming soon (well, that last phrase could give rise to a stupid pun. And so could that last sentence.)