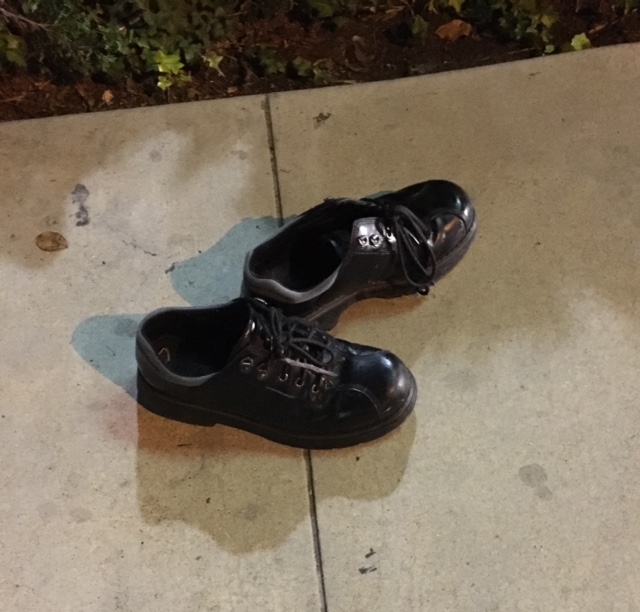 Shoes
2 responses
My entry for the Flash Fiction competition. Flash Fiction has to be under 500 words, and usually I try, as a challenge, to make it EXACTLY 500 words. But this story refuses. Its intention is not to answer questions, but to raise them. Not to satisfy readers with an easily digestible morsel, but to leave him or her hungry. Take a bite.
Posted on Facebook: Mystery mystery – on the sidewalk at North Park San Diego, perfectly clean, fairly new shoes. I saw the same phenomenon at Del Mar beach. I don't get it.
Comment from Marvin Z: I know those shoes
Brett had had enough. His last client had finally convinced him that unless he got himself a proper job life wouldn't be worth living. The bruises ached and throbbed. He wouldn't be surprised if a black eye was brewing, which would certainly make the next client far from happy. Two hours to go, two hours he had planned for lunch and a sunbed.
Depression sought him out and found him. That tarnished, foggy, muddy companion visited more often than before nowadays, bringing a weight to his chest which would stay there for minutes or hours or days.
University Avenue stretched before him. Semi trendy, partly hip, partly run down, this vast artery of a seemingly endless road in North Park San Diego looked heartless in the cool evening fading light of November. There was a pointlessness to today, a suspension of belief. The buildings, a stage set.The people were all empty – man with man bun; two black kids swooshing by, one on a skateboard, the other on a bicycle, scattering pedestrians. A girl in a ridiculously short shocking blue skirt, hair awry. Empty eyes.
He reached the Café and stared through the window. Craft beer, burgers. The place seemed to have been taken over by parents with kiddies. Empty parents, mechanical kids. Between him and his planned meal, the cloud. Thickening.
He sat heavily on the sidewalk, the phrase from Paul Simon's Graceland wafting through his mind "Empty as a pocket with nothing to lose…"…..
And then: "Diamonds on the soles of her shoes…"
And then "…one way to lose those walking blues…."
He stared down at his shoes. Black, shiny, laced. One lace a little frayed but otherwise quite smart.
Diamonds.
Traffic rolled, creaked, ground by. Driverless and entirely pointless. Empty as a pocket.