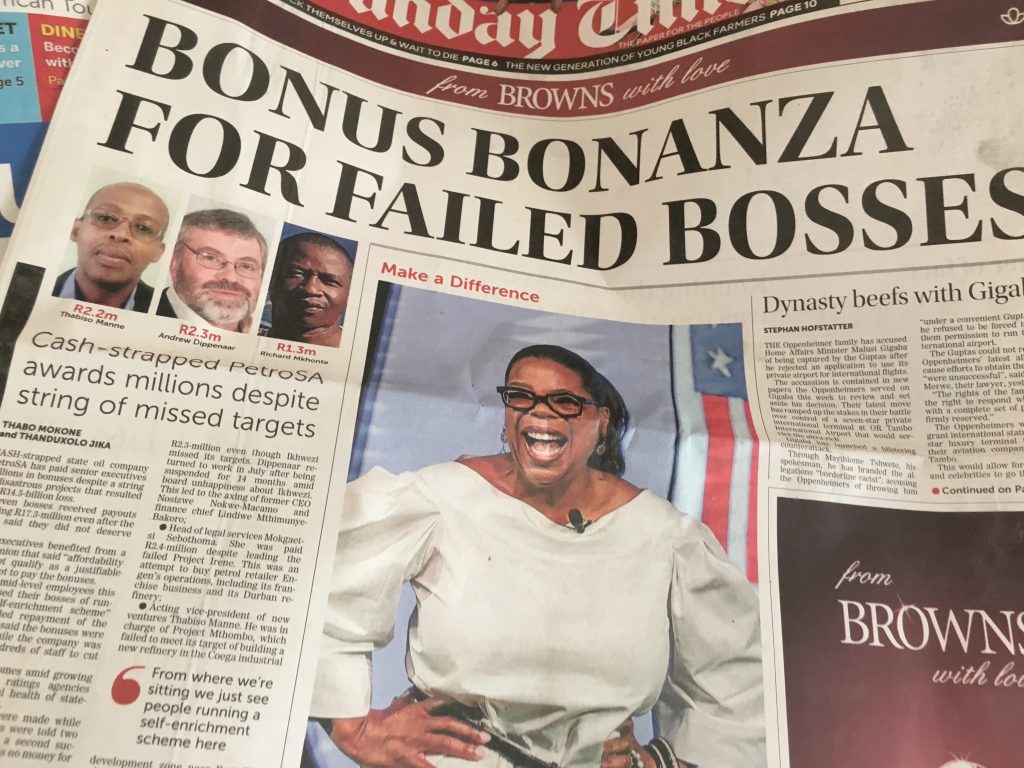 Letter from Azania 6: So Far So?
no responses
Mid-term Report
I left South Africa – soon to be Azania I thought, after an extremely bloody revolution in which everybody died – in 1970. And now officially a Brit I am back in the loving arms of my son and family. Both the country and I have been through riveting change – I have almost grown up. And my homeland?
From an international pariah state run with guns oppression and fear by racist demagogues to – ? That's what I am here to find out.
I came burdened by the two stereotypes white South African expats bring with them to London, New York and San Diego, where I have just spent time. Crime, and corruption.
Yet from the splashes coming from the swimming pool, and the snarks and snorts of the whales and boobies disporting themselves there, most foreign visitors assume that they have plonked themselves in paradise. After all, I have been here a week and while there was some minor shooting between mutatus (the minibuses that operate as taxis all over the place – as they go along, they beep. If you want a ride you wave arms legs and money. Or some of the above) on the road from airport to city. (Actually they are called mutatus in Kenya, not in South Africa. But my son says you won't know that. Never underestimate the reader!) comma, I have not been subject to any deadly force myself yet.
True I have seen an injured person waiting two and a half hours for an ambulance, (see previous blogs) but what the hell. If this was Britain they'd wait seven minutes for the ambulance, but another four hours minimum in the casualty department of the hospital to be seen. There are probably fewer germs on the sidewalk than in hospital.
True, I have heard stories of horrific crimes – in Hout Bay, the delightful Italian mama who owns the ice cream shop told us of the three armed men who arrived one afternoon at 2pm, held her up, emptied the till, had a pecan nut and strawberry gelato and made off to the hills. The whole incident was brilliantly filmed by her very own cctv and shown to the cops. None of the men had bothered to cover their faces or disguise themselves in any way. Why bother? The cops have as much chance of catching them as they have of running the country.
I forgot. They pretty much do that. And as soon as one reads the local papers or in particular the blogs and online magazines the corruption becomes clear.
Several police enjoy themselves by arresting other police at any rate. It gives them something to do. For example, in late 2014 they arrested ten of their own for bribery and corruption. Cape drug dealer Salim Dawjee bribed a blokie called Arno Lamoer with R1.6 million to lessen his conviction. Incidentally, it is very rude to say "Jy Moer" to anyone (pronounce it yay muhr) – it's kind of the equivalent of the playground taunt "your mother", implying you had sex with that lady. Nice name, Arno.
Not to mention the national police commissioner Riah Phiyega who tipped off Lamoer. Loads more! From small – in Sea Point's Ocean View Drive the police lurk in the shadows waiting for a well-heeled SUV driver stumbling from his car pissed as a pike on the end of a pike –pounce, and take him by force to a cash machine where thy virtually empty his account as he begs for leniency. To big –such as the scandal involving the R500 million lease of the new police headquarters in Pretoria.
Yet there are superb police officers doing their best to enforce the law honestly. A beautiful story (apparently there is a YouTube clip) about a traffic cop issuing a ticket to a motorist in Kayelitsha township. As he's writing the ticket, a baddie sneaks up on him to try to steal his gun. A gunfight ensues in which traffic cop is wounded and baddie makes his escape. Cop then dusts himself off, "It's only a flesh wound" and continues to write the ticket. Hero? Fool? Well, I go 'hero'.
There are far too many corruption scandals for me to go into, but you can read about the top ten here. I have already mentioned Nkandla, Zuma's palace. But the others are even more fun. http://buzzsouthafrica.com/here-are-the-top-10-corruption-scandals-in-south-africa/
I propose to use this blog to tell you about my personal experiences and reactions to this astonishing country, to amuse you with some daft prose and poetry, and above all to give you a picture which will I hope go beyond stereotypes. There's no point in just rehashing what you can Google yourself…
See you tomorrow – same place maybe same time!