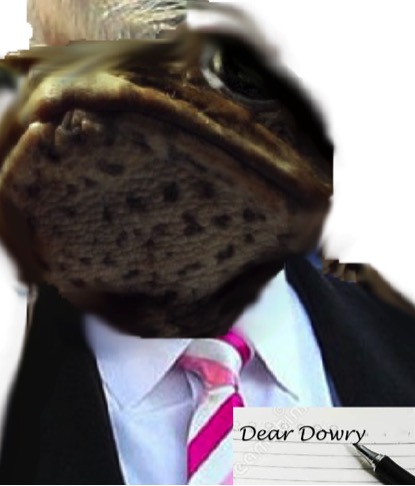 Mr Toad's Diary!
no responses
Sunday
Dear Deary
Sooooo proud! Today I finally moved in to the big fucking ugly Pennsylvania Avenue house, which I used to call "The Black House" and which, from now on and forever, is going to be called Toad Hall. You watch me, within six months this is going to be the greatest, the most magnificent, the best house in the world! Once me and Mrs Toad get those fabulous designers in here, the ones who made Toad Tower such a genuinely outstanding and wonderful building and an example to the whole universe, the transformation will begin! Gilding, angels, gold everywhere. I love gold. It so expresses my big wonderful fantastic and, let's face it (using my favourite word) GREAT personality. How Vlad loved his time visiting me at Toad Tower and by the time he visits me here at Toad Hall, he will be soooo proud of me and sooo delighted with his choice to lead this fantastic country.
Sooo glad that darn Inaugurittion is over. I had to stand next to that miserable titless immigrant I musta married when I was drunk, the whole time! You won't believe what she was wearing, trying to look like that Jackie Kennedy, with her arse and her tits totally flattened by some kinda designer shit. Thank heavens the Trumpettes were there! Wowie, aren't they they fabulousest of the fabulous, with their great asses and tits that make your balls ache. Note: Must organise a hotel room soon.
I have been having great (oh that fabulous word again!) fun appointing my cab! All I had to do was Google "Swamp Creatures" and all these names just bounced up. So every name of anyone who ever tweeted about hating something, I made them in charge! Liberals consider your asses kicked! See? I told you when you wouldn't make me the Democrat candidate way back then, I would get my revenge. Oh how you laughed at me! Well you aint laughing NOW are you, Mr New York Times, Mr CNN, all you liberal bullshit sellers. I'm gonna FUCK with your HEADS until you scream, hear! I will TORMENT you with everything you hate most until you all get on bended knees and say "Sorry, Toad, I didn't mean it and I love you really!" WATCH!
I have also, dear dairy, chosen a great team of Weasels to protect my security – went to a Weasel meeting yesterday and boy how they love me! Gonna fire any that know about those kisses between me and Vlad natch. those guys gotta go.
Well, now I gotta make a start tearing up this stupid Democracy and shit. First comes health, I can't believe the way the Muslim Black Guy (I am going to call him BG from now on, I can't bear his stupid Islam name) took so much profit away from my buddies! I promised them to fix it, and those Disposables who voted for me are all for it. Idiots! Har. They looooooove me. Even when they are lying in the street dying from accidents they're gonna be crying out "Thank you dear Toad! I looooove you!" After all no-one could be more of a friend to those dumb creatures, no one could support them more, no one could ever get so much GREAT love from so many GREAT people!
And then I'm gonna start my great Climate Destruction plan. There is SO much profit in that you won't believe. That Dakota pipe, my God the money in that! I had to promise lots of my swamp guys a bite of that pie but hell you know to keep your buddies close you gotta feed them pie. And now I got the biggest, the fattest, the GREATEST the most wonderful pie in history!
So you wait, America, Uncle Toad is coming to get you!!!
Notes: 1) find bastards who speak foreign and didn't vote for me and expel from country.
2) find all pictures of inaug day from above and get photogs arrested for paedophilia. Weasels to arrange.
3) collect dirt on all journalists for later use.
Thursday
Dear Dowry
Soo excided! It's been all go here at Toad Hall so I haven't had a chance to write in you, old friend.
My campaign of FUCK THE LIBERALS is going very well I have to say. This is gonna be the greatest ass-kicking in history! I have squashed BG the fucking Muslim's Unhealth plans! I have SQUASHED every bullshit climate change document or policy from the Black House so now Toad Hall is in charge, all my buddies are gonna be SO rich. I mean, even more richerer than ever before! See what happens to Exxon Mobil shares this week.
What else. Got the Wall started, that'll be such a great source of contracts for the Boys! Who cares if it doesn't make a fucking shred of difference to the number of illegals. All those fucking liberal mayors shitting their pants and swearing they gonna defend their pet illegals, makes me LAFF! Like as if I would throw them out when they make so much great money for me by working for next to nothing. And what is the best way to keep them working for next to nothing? Make them scared! They'll do anything for a buck and you know what, dear dowry, some got GREAT tits and asses!
Yup! And managed to get at least SOME of that black guy's terrorist buddies banned. No Syrians for sure. Miserable bastards, always moaning about being killed and raped and shit. And for the rest, they are gonna have to take a test when they apply to come in to our great country. A fifteen page test in English of course. The first question, and I wrote it myself, is "Why do you want to be a Jihadi?" and they have to answer Yes or Definitely. Then question two says, "How many wives do you have?" and I ban anyone with one or more. Then question three says "To what extent do you think Toad is the best president ever? A) Great b) Fantastically Great c) Fantastically wonderfully ecstatically FABULOUS and if they choose anything other than c they go straight to the last question, which is "Do you realize you have been refused admission into this great country? Yes or no."
My cleverness never ceases to amaze me and everybody else.
Notes to wonderful marvelous fabulous self:
Get new wife. Soon. Or wives. I don't see why a Pres shouldn't have LOTS. Get law changed.
Find at least FIVE ways to fuck off the Liberals this week
Invent at least FIFTEEN truths a day (see 2)